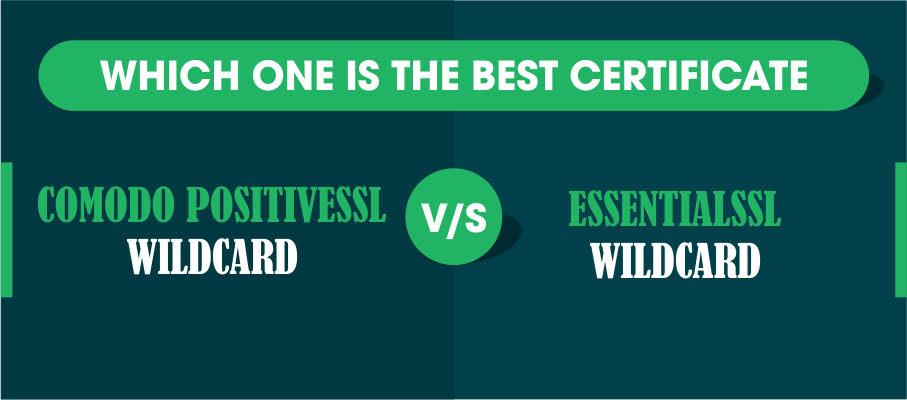 Comodo PositiveSSL Wildcard vs. EssentialSSL Wildcard Certificate
The increased internet activity in the past few months, owing to COVID -19 pandemic, has further increased the need to pay attention to our web security. SSL Certificates have become synonymous with a secured web environment. With cyber threats becoming more and more complex, SSL Certificates provide a complete security solution by providing a secure path between server-server and server-client, for information exchange on the internet.
Comodo is the most trusted name in the field of providing SSL Certificate protection. It accounts for about 34% of the total market share, which is more than any other paid certification Authority.
It offers a wide range of products catering to different security needs and costs. Among these products, Domain Validation SSL Certificates account for its major market share. Previously, securing sub-domains meant getting separate security certificates for each of the subdomains. Managing certificates for all your subdomains separately added on to your costs and was also a complete waste of time. Wildcard SSL Certificates provide an effective solution to this problem faced by web users.
 What is a Wildcard SSL Certificate?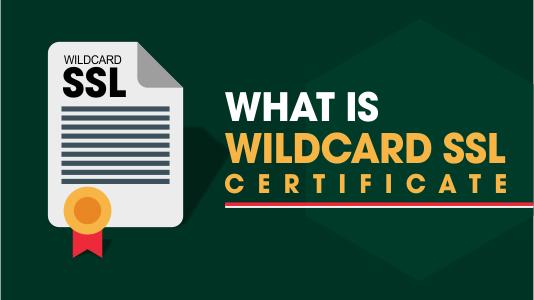 Wildcard SSL Certificates are a type of certificate that essentially provides security to your main domain and all the unlimited subdomains that you have built one level below the main domain. The term Wildcard points to the special character (*). While generating the Certificate Signing Request (CSR) the special character (*) is prefixed to the domain name of your site. Say for example, if your site's main domain is
domain.com
the CSR generated will look like
*.domain.com
The presence of this wildcard character in the CSR means that the certificate provided protects not only your main domain but also all the subdomains that are built below it. In contrast, a standard SSL certificate protects only the main domain for which CSR is generated and no other subdomains. So, if you use a standard SSL certificate for protecting your subdomains, you will have to buy one certificate each for all the subdomains. Managing so many certificates together will not be easy. On the contrary, using a Wildcard SSL Certificate saves your time and provides a cost-effective and hassle-free security solution by simplifying SSL Certificates management. The Wildcard SSL Certificate makes your website future-ready by providing full security to all your subdomains which may be added later with one certificate only.
Among the array of products available from Comodo Wildcard SSL Certificates, Comodo's PositiveSSL Wildcard Certificate and Comodo EssentialSSL Wildcard Certificate are the two most popular with the web users.
Let us discuss the two:
Comodo PositiveSSL Wildcard Certificates
Comodo PositiveSSL Wildcard Certificate is a part of the "Positive "range of Wildcard security certificates issued by Comodo. Few products from Comodo Positive Range are:
Comodo PositiveSSL
Comodo PositiveSSL Wildcard
Comodo PositiveSSL Multi-Domain Wildcard
Comodo PositiveSSL Wildcard Certificate, like any other Wildcard certificate, provides security to not only the main domain but also to all the subdomains built under it. Its encryption strength is up to 256-bit encryption. The Comodo PositiveSSL Wildcard Certificates are cheaper as compared to other SSL wildcard products available in the market. It has 99.9% web and mobile browser compatibility. PositiveSSL Wildcard Certificates are more popular among medium level websites because of the advantage of the affordable price at which it is available in the market. You also get warranties to protect against any damages in case of any failure from Comodo's side. You get site seals that can be placed on the website to instill trust in your visitors and boost traffic.
 Comodo EssentialSSL Wildcard Certificates
Like the Comodo Positive range, Comodo also has an Essential range of products. These include:
Comodo Essential SSL
Comodo Essential Wildcard SSL
Comodo EssentialSSL Wildcard Certificate like any other wildcard certificates to offers security to the main domain and all the subdomains built one level below it. Warranties provided are like that of the Positive range of certificates that offer protection against any damages in case of any failure from the company's side. It offers 256-bit SSL encryption. Site seals provided can be displayed anywhere on the website to win the trust of the visitors.
Comodo EssentialSSL Wildcard Certificates are however costlier than PositiveSSL Wildcard Certificates because of the higher level of security features provided. The heightened security makes it more popular with E-commerce platforms or where financial transactions must be taken care of as no such platform can afford a breach of data involving such sensitive data of their customers.
Comparison: Comodo PositiveSSL Wildcard vs EssentialSSL Wildcard Certificate
| | |
| --- | --- |
|   The PositiveSSL Wildcard   | The EssentialSSL Wildcard |
| 1. Is cheaper than EssentialSSL Wildcard | 1. Is costlier than PositiveSSL Wildcard |
| 2. Has a user rating less than Essential       SSL Wildcard | 2. Has a higher user rating because of its   various security features |
| 3. It is best for small and medium level     websites. | 3. It is best for financial transactions or E-commerce sites. |
Key Differences
Price: The main difference between Comodo PositiveSSL Wildcard and EssentialSSL Wildcard Certificate is the price. PositiveSSL Wildcard Certificate is cheaper than the EssentialSSL Wildcard Certificate.
Security Type: Comodo PositiveSSL Wildcard Certificate is mostly used to protect small or medium level websites; on the other hand, EssentialSSL Wildcard Certificate is used to protect financial transactions or customer sensitive data.
Rating: User's trust rating of EssentialSSL Wildcard Certificate is much higher than that of the PositiveSSL Wildcard Certificate because of the high level of security features provided by the EssentialSSL range of Comodo's products.
Wrapping up
With all the information in your hands now, it is time for you to analyze your own security requirements and the economics behind it. Both PositiveSSL Wildcard Certificates and PositiveSSL Wildcard Certificates have their own merits and demerits. Suppose your primary focus is to simply provide a secure environment for your website and its subdomains. In that case, PositiveSSL Wildcard Certificates can provide this security with less investment, whereas PositiveSSL Wildcard Certificates, with a little more investment, provide better security features. Both are very good products in their respective niches. Make your options clear and provide the most crucial web security needed to build trust in your visitors. Invest in a Comodo PositiveSSL Wildcard or EssentialSSL Wildcard Certificate today.
Related Articles: