What are the Benefits of Wildcard SSL Certificate?
Key features help to make the buying decision easy

Secured Unlimited Subdomains
Wildcard Cert is securing a website & an unlimited number of its first-level subdomains in a single certificate price. For example, *.Domain.com can secure store.domain.com, shop.domain.com. No need to buy separate SSL.

Strongest Encryption
With the rising demand for stronger security, it is equipped with 2048-bit CSR encryption to keep online data secure. Now, customers' data security is no more a concern for website holders with the help of wildcard SSL cert.

Browser Compatibility
Wildcard certs are trusted by all browsers, os & servers whether you browse on desktop or mobile. It means there is no need to worry about SSL compatibility issue and users will have a seamless browsing experience.

Easy To Manage
Get Wildcard certificate for subdomains that offers streamlined certificate management during the certificate lifecycle. Get freedom from remembering different expiry dates of each subdomain with wildcard certs.

Free Site Seal
For additional assurance, a free site seal comes with a certificate that can win the confidence of visitors and customers. A site seal on a website assures about potential sales growth of a business in the long run.

Unlimited Server License
The certificate can be installed on different servers without charging extra money even subdomains are on different servers. You can run the same cert on both servers parallel even though they are hosted on different locations.
How Does Wildcard SSL Work?
Wildcard SSL certificate is an ideal security that saves time in managing multiple subdomains. All subdomains pointing to a main domain will have a single secure shelter called wildcard SSL. The certificate brings a modern algorithm to your website and keeps data secure.
If you are in search to secure unlimited subdomains at the lowest price then, a wildcard SSL certificate is a boon for your website's security.
Below is an example of a wildcard SSL certificate issued for *.domain.com that can secure the following subdomains like,
blog.domain.com
forum.domain.com
support.domain.com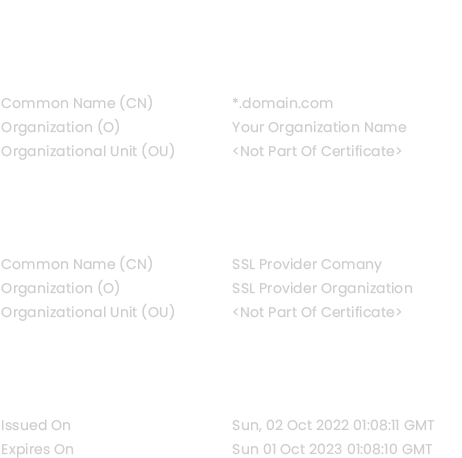 Why You
Should Buy A
WILDCARD SSL?
Robust security for multiple subdomains.

Cost Effective
Save money by managing subdomains' security with a single Wildcard Certificate.
Dual Validation
Validate the identity of your business along with Domain Validation using OV Wildcard SSL.

SAN Support
Get an additional benefit of SAN support for multi-level domain protection.

Assured Warranty
In case of any mis-issuance of the certificate additional protection is provided.
TYPES OF WILDCARD
SSL CERTIFICATES

Domain Validated (DV)


Wildcard SSL

Organization Validated (OV)


Wildcard SSL

Validation
Domain Only
Domain + Basic Business
Warranty
Up to $500,000
Up to $1,500,000
Issuance Time
Up to 1 Business Day
2 – 5 Business Days
Price
Starting from $120.00/yr.
Starting from $268.00/yr.
Documents Required
Organization Name In Certificate
View All Products
View All Products