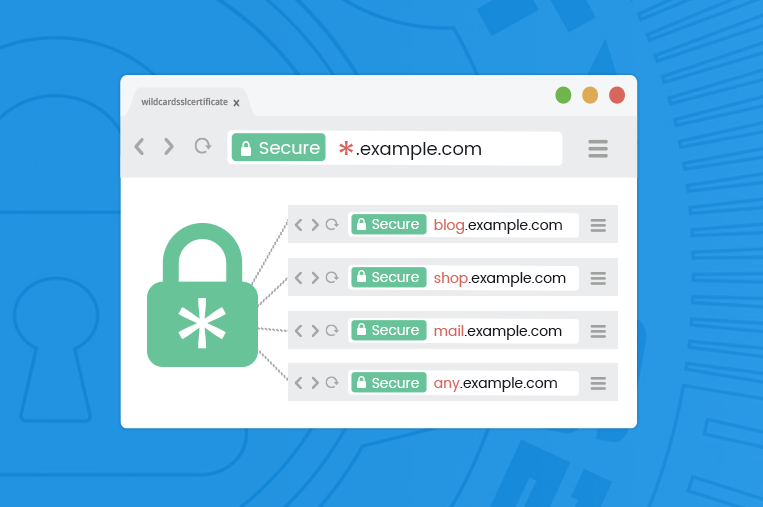 Globally Known Cheap Wildcard SSL Certificate Providers to Secure Unlimited Sub-Domains
Are you searching for a cheap Wildcard SSL certificate to secure your main domain and unlimited subdomain? Here, we are sharing a list of the cheapest SSL Wildcard certificate providers (brands) from where you can buy Wildcard SSL cert for your business website.
SSL has become the mainstay of the online industry. The main task of the SSL (Secure Socket Layers) certificate is to encrypt all the information transmitted between browsers and the server. There are many types of SSL certificates that can be purchased from the market depending on your requirement. In this article, we will talk about the best Wildcard SSL certificates, which come in different validations like:
Below Are The Best Cheap Wildcard SSL Certificate Providers 2022
In this article, we will check out some best but cheap SSL Wildcard certificate providers and their distinctive features.
AlphaSSL Wildcard
RapidSSL Wildcard
Comodo Wildcard SSL
Comodo PositiveSSL Wildcard
InstantSSL Wildcard SSL
GeoTrust Wildcard SSL
Thawte Wildcard SSL
Symantec Wildcard SSL
Gandi.net Wildcard SSL
GoDaddy Wildcard SSL
Sectigo Wildcard SSL
GlobalSign Wildcard SSL
SSL.com Wildcard SSL
Register.com Wildcard SSL
Network Solutions Wildcard SSL
Entrust Wildcard SSL
DigiCert Wildcard SSL
#1. AlphaSSL Wildcard – Cheap Wildcard SSL Certificate
This cheap AlphaSSL Wildcard certificate comes with 256-bit encryption and 2048-bit CSR encryption, thus enabling strong security of data passed between servers and browsers. This Domain Validated SSL certificate comes at a cheap price of $149/year.

#2. RapidSSL Wildcard – Low Cost Wildcard SSL
This RapidSSL Wildcard is the best for small and medium-sized businesses with a limited budget. This DV certificate can be quickly issued in less than 5 minutes and comes with the security of 256-bit SSL encryption and 2048-bit CSR encryption.
#3. Comodo Wildcard SSL: Cheap SSL Wildcard Certificate
Comodo Wildcard SSL certificates are a symbol of trust and security. They were early entrants in the world of SSL security; and one of the best Wildcard SSL certificate providers, giving the same encryption security as other SSL certificates. This certificate provider also has a Comodo OV SSL Wildcard, whose features are similar to DV Wildcard, the price is $599/year and its issuance time is a few minutes.
#4. Comodo PositiveSSL Wildcard
Comodo PositiveSSL Wildcard is yet another best Wildcard SSL certificate in the DV category under the Positive SSL brand which is compatible with all browsers, operating systems and servers. Just available at $249/year, the customer never faces mismatches or errors with this SSL certificate with this wildcard SSL.
#5. InstantSSL: Low-Cost Wildcard SSL
InstantSSL offers wildcard SSL with Domain Validation naming Comodo InstantSSL Wildcard certificate. It comes with many fantastic features that bring strong security to main as well as unlimited subdomains. On the other hand, Comodo InstantSSL OV wildcard provides domain and organization validation with 256-bit encryption and $250,000 warranty. Few important features of both wildcard types are discussed below:
#6. GeoTrust Wildcard SSL Certificate
GeoTrust is one of the leading SSL providers who secure 100% of your online payment. GeoTrust Quick SSL Premium Wildcard comes with auto-authentication and quick issuance. It also supports the SAN facility, thus allowing 2nd level sub-domains protection on a single certificate. It secures www and non-www with 256-bit encryption and 2048-bit CSR encryption. Moreover, GeoTrust True BusinessID Wildcard SSL has the same features mentioned below but comes with a warranty of $1,250,000 USD and an issuance time of 1-2 business days.
#7. Thawte Wildcard SSL Certificate
Thawte Wildcard SSL certificate is a DV SSL, providing 256-bit encryption security as above, and comes with a free site seal, thus giving that extra security assurance to its customers. With a warranty of $1,250,000 and issuance time of 1-2 days, Thawte SSL Web Server Wildcard is an OV SSL, which works best for those businesses who wish to authenticate their businesses along with strong encryption.
#8. Symantec Wildcard SSL
Symantec Secure Site Wildcard SSL is a premium expensive OV Wildcard, with excellent features like Seal-in-Search and high browser and OS compatibility. Though this certificate supports SAN domains, there is a cost for additional server licenses.
#9. Gandi.net
Gandi Wildcard SSL certificate secures your main domain and first-level sub-domains, but it does not secure *.*.example.com and its sub-domains. This SSL certificate is very cheap and hence is non-refundable; if the buyer doesn't like it. The other SSL wildcard from Gandi.net is Gandi Pro Wildcard SSL certificate is an OV SSL, but this will also not secure sub-sub domains like *.*.example.com. It comes with a warranty of $250,000 USD and 30 days money-back guarantee along with the same encryption features as DV SSL.
#10. GoDaddy Wildcard SSL
GoDaddy Wildcard SSL is yet another cheap SSL Wildcard certificate provider, securing the primary domain and all first level subdomains. Moreover, GoDaddy Deluxe Wildcard SSL is an Organisation Validation SSL certificate that comes at a very nominal price of $295.99/year. Its issuance time is 2-3 business days and comes with a warranty of $1,000,000 USD.
#11. Sectigo Wildcard SSL Certificate
Sectigo Wildcard SSL certificate is another famous SSL product securing all first-level sub-domains with the main domain. With an issuance time of around a few minutes, this brand has excellent features described as follows. Moreover, the Sectigo OV Wildcard SSL certificate authenticates your business and domain name, with an issuance time of 1-2 business days, warranty of $1,000,000 USD and a price of $449/year with the above-mentioned advantages.
#12. GlobalSign
GlobalSign Domain SSL Wildcard is a domain validation SSL certificate with quick issuance and a clickable site seal. GlobalSign Organisation SSL Wildcard comes with the advantage of installing the same wildcard SSL on multiple servers to secure all first-level sub-domains. A warranty of $1,250,000 USD if there are any mismatches, this SSL is issued in 2-3 business days, at a price of $849/year.
#13. SSL.com
SSL.com Wildcard SSL certificate secures both versions of the domain (www & non-www) with 99% browser and mobile compatibility. This SSL certificate ensures that its customers have a smooth and error-free browsing experience.
#14. Register.com
Register.com Wildcard SSL is an OV SSL securing your enterprise website with a green padlock. This ensures data safety through encryption and customer trust with free site seal.
#15. Network Solutions Wildcard SSL
Network Solutions Wildcard SSL is an organization validation certificate, securing all *.domain.com. The company, who purchases this certificate, will be verified by Network Solutions for domain and business verification.
#16. Entrust Wildcard SSL
Entrust Wildcard SSL verifies your business identity by securing multiple servers in a single certificate. 50 more wildcard domains can also be secured by this SSL certificate at an additional cost. 99.9% mobile and browser compatibility reduces the risk of SSL mismatch.
#17. DigiCert Wildcard SSL
DigiCert Wildcard SSL is an OV SSL protecting the primary domain and all sub-domains with 256-bit SSL encryption. It provides SAN facility so you can additional domains for life with this single SSL certificate.
How Does the Wildcard SSL Certificate Work?
Once your main domain is secured; it will automatically secure all the first-level sub-domains. This certificate has a special character i.e. "*" in the domain name field.
Examples:
*.mywebsite.com
mail.mywebsite.com
blog.mywebsite.com
article.mywebsite.com
If you have multiple servers with different sub-domains; one single Wildcard SSL certificate can be installed on different servers to secure sub-domains.
How to Find the Cheap Wildcard SSL Certificate?
If you are a novice to the SSL industry and do not know much about which type of SSL certificate is ideal for the website then, there is no need to worry about it. As time goes, the SSL industry has grown predominately, and many certificate authorities and other resellers have come up with different SSL certificates that will suit your requirement. In the case of the cheapest wildcard SSL certificate, we have brought to you the best offers that will secure your main domain as well its first level of subdomains also pleases your pocket. Your customers will have a strong confidence level to deal with your site once you have a wildcard on your site.
Final Word for Cheapest Wildcard SSL Certificate:
The coming year 2022 will face tough competition amongst these cheap Wildcard SSL certificate providers who offer DV and OV SSL certificates at cheap and competitive rates. It's difficult to guess which one will be the best in the year 2021 because mostly all these brands have 256-bit SSL encryption and 2048-bit CSR encryption which secures your online business and transactions.
"HTTPS" in URL and a green padlock in the address bar is a symbol of SSL security, which helps in boosting SEO rankings and increasing customer trust, leading to high network traffic and conversions. Secure and prosper your business with SSL.
Related Articles: