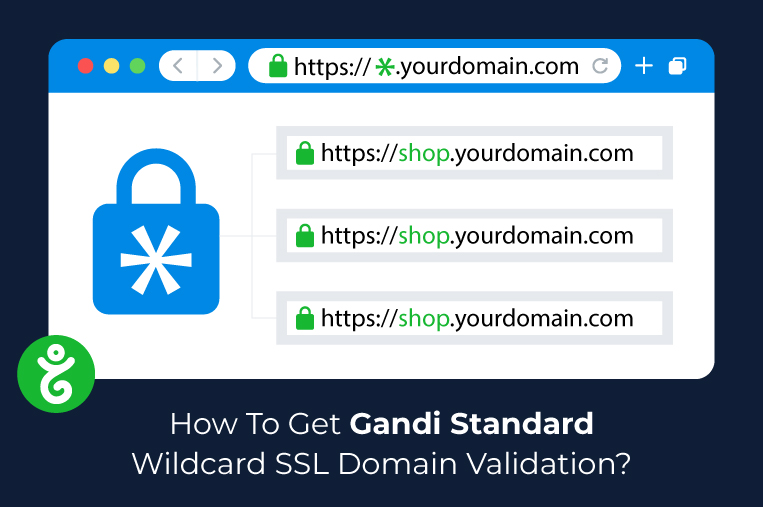 SSL/TLS (Secure Socket Layer) certificates are essential digital securities that use encryption technology for securing the web. By ensuring a secured encryption tunnel for browser-server exchanges, these certificates help prevent intruders from accessing the site and its data.
The presence of these certificates confirms that the site authentication and owner identification are positively confirmed by the Certificate Authority (CA) at the time of its issuance. This certificate also helps to display HTTPS (hypertext transfer protocol secure) in the address bar and a padlock in the URL which proves to be trust icons for its visitors.
Types of SSL:
Varied types of SSL certificates secure your web in different ways.
A Standard Domain SSL certificate secures the main domain/subdomain of the website
A Wildcard SSL certificate secures the root domain and varied first level of sub-domains of the site.
A Multi-Domain SSL certificate secures multiple domains and multiple sub-domains of the site.
In this blog, we will discuss the Gandi Standard Wildcard SSL certificate and its benefits for your digital web.
About Gandi Standard Wildcard SSL Certificate: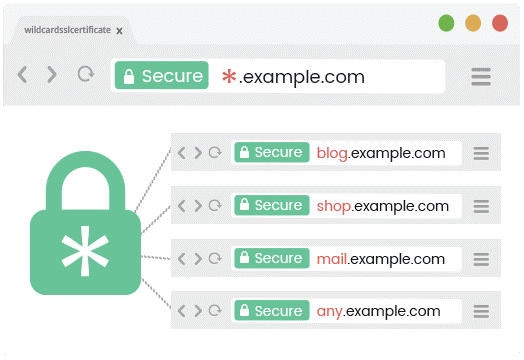 Gandi Standard Wildcard SSL certificate comes with ample features and benefits. Not only does this SSL certificate secure the root domain of the owner's website, but it also secures all first-level subdomains as shown in the above image.
An (*) asterisk which is considered to be a wildcard character needs to be placed before the domain name. This will help in adding varied subdomains, thus permitting a single Wildcard SSL certificate to secure them.
Example:
As shown in the above image, *.example.com is the root domain and the rest are subdomains. All the subdomains like blog.example.com, any.example.com, mail.example.com, shop.example.com, and many more can be secured with a single Gandi Wildcard SSL Certificate.
Features:
A Gandi Standard Wildcard SSL certificate can be issued instantly within 1-2 days since only the domain name of the site needs to be verified by the CA. No other business documents or verifications are needed and hence the verification process is quick.
Each subdomain is secured by this certificate and no additional expenses are required for securing them. This helps to effectively secure the web with minimum time and maximum efficiency.
It provides robust 256-bit encryption and 2048-bit CSR encryption. This prevents intruders from accessing your web and data.
This SHA-2-enabled SSL certificate helps boost SEO (Search Engine Optimisation) rankings and gain user trust.
Unlimited subdomains, unlimited server licenses, and unlimited SSL re-issuances are available free of cost with the purchase of a Gandi Wildcard SSL certificate.
Being compatible (by 99%) with the majority of the popular browsers and servers, this Wildcard SSL certificate comes with a 30-day refund offer in case of owner dissatisfaction. Hence, this SSL product is returnable in case the purchaser has a better option.
How to Get a Gandi Wildcard SSL Certificate?
Since the SSL certificate provider (Gandi) and type of SSL certificate (Standard Wildcard SSL) are fixed, the site owner needs to generate a CSR request on the server and need to submit it to the certificate authority. In case of OV – organization validation, the basic details of the organization should be submitted.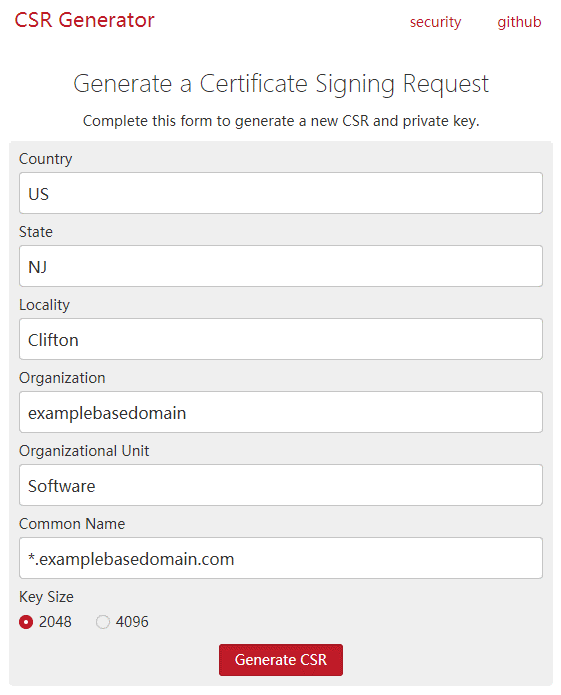 After positive completion of the domain approval process or successful validation of the organization details and authenticity, Gandi will issue the Wildcard SSL certificate.
Congrats!! Now you need to configure this Wildcard SSL certificate on the server by uploading the certificate files and the private key.
Tip: Store the private key on an external device for better security.
Why Gandi?
There are many SSL certificate providers in the digital market, but Gandi has an experience of more than 20 years in this industry. Its technical team provides awesome customer support to clients who have no knowhow about the SSL purchase, installation, or configuration process.
It has gained a favourable customer base by providing 24/7 customer service, thus gaining customer loyalty and mouth-to-mouth publicity.
The pivotal factor to approach Gandi for digital security is the rate factor. Enticing and competitive rates are its major benefits.
Final Words:
Gandi Wildcard SSL certificates are an excellent combination of cheap rates, strong security, the best services, and easy management. So, what are you waiting for? Approach Gandi and fulfil your dream of securing your digital empire.