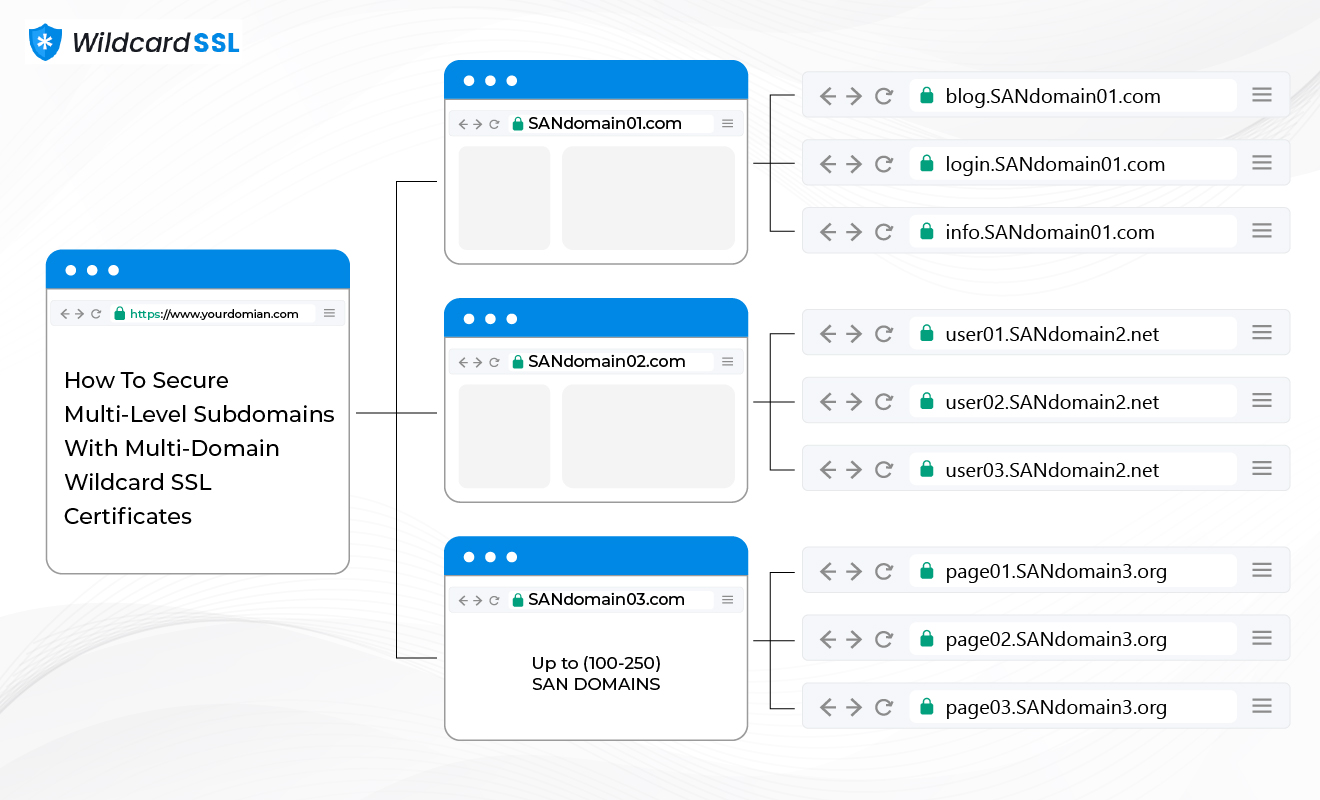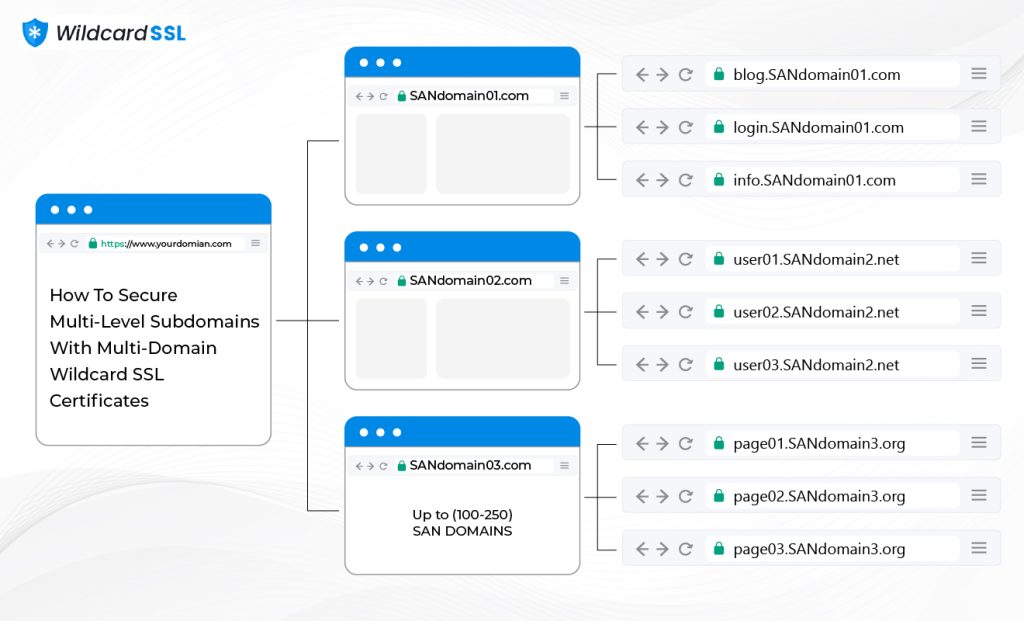 Safeguarding complex digital networks, such as websites with multi-level sub-domains, is one of the most challenging problems confronting bigger businesses, particularly corporations. You might be surprised to learn how frequently this kind of scenario occurs.
Moreover, regrettably, the way wildcard SSL certificates are marketed gives rise to the false impression that a solitary Wildcard certificate can protect all the subdomains at various levels. It is not true! However, a workaround lets you complete everything on a single license.
It will be discussed shortly, but let us first identify the issue, what a wildcard certificate is, its benefits, facts about multidomain wildcard SSL, how to protect these subdomains with multidomain SSL, and more.
Wildcard Certificate: Overview
Although the websites are hosted on different hosts, a solitary SSL certificate can protect the primary site and its extensions. Any website with numerous subdomains can use it as an all-in-one protection option. It is a trustworthy and expandable certificate that streamlines certificate administration and combines the confidentiality of all subdomains into a single certificate.
What are the key advantages of a Wildcard SSL Certificate?
Major advantages of a wildcard SSL certificate include the following:
Securing different sites on a particular domain is a practical and integrated option.
It can incorporate 256-bit encryption, the most recent strong encryption.
Every contemporary browser and smart device supports it.
Any innovative subdomains you incorporate will immediately be secured, making it prospective.
Issues with subdomains
Subdomains or extensions are now a common feature of the web, but protecting them isn't always as easy as it might seem. The claim that a Wildcard SSL certificate can protect "infinite subdomains" is only partly accurate; each subdomain must be located within the identical level of the Address.
That's usually not an issue! However, it can be with businesses that use multi-level subdomains in their online infrastructure, particularly when misconceptions exacerbate regarding the usefulness of a Wildcard certificate.
The subdomain category you want to safeguard is marked with an asterisk (*) when you generate the CSR for a Wildcard certificate.
However, any additional sub-domain at a higher level will not be able to take advantage of that certificate. Additionally, it can become very complex because Addresses split at the second sub-domain stage. Let's take a brief glance at URL construction. You must not worry about the protocol because it should always be HTTPS as we advance and because computers will shortly cease displaying it in the address field.
ThirdLevelSubdomain.SecondLevelSubdomain.FirstLevelSubdomain.Domain.TLD/Directory
A Wildcard must precede the first-level subdomain from which the second-level subdomains expand. The asterisk must be used at the specific domain level in case you want to protect a second-level subcategory.
This is the way it ought to appear:
*.FirstLevelSubdomain.Domain.TLD/Directory
Are you baffled yet? It would be better to consider a number of second-level subdomains that branch off of numerous first-level subdomains, and you are able to observe how rapidly things can become complex.
How Do Multi-Level Subdomains fit in?
What would happen if you wanted to secure the second-level subdomains? For instance:
server1.blog.yourdomain.com
dev.server.yourdomain.com
mail.server.yourdomain.com
The solution is to purchase multi-domain wildcard SSL certificates
Similar to how poorly the business explains the restrictions of a normal Wildcard SSL certificate, it also falls short regarding Multi-Domain Wildcard SSL certificates. It is frequently described as covering those (first-level) sub-domains of up to 250 distinct domains. And it'll certainly accomplish that. There are, however, additional possibilities.
This license could also be referred to as a "Multi-Level Wildcard." This is because the multidomain wildcard is ideal for assisting businesses with complex website architectures that utilize multi-level subdomains. Let's examine what could possibly proceed on a CSR:
FQDN: domain.com
Wildcard SAN: *.domain.com
Wildcard SAN: *.mail.domain.com
Wildcard SAN: *.members.domain.com
Wildcard SAN: *.dev.domain.com
Wildcard SAN: *.domain2.com
Wildcard SAN: *.ftp.domain2.com
Wildcard SAN: *.shop.domain2.com
By doing this, you have successfully secured two websites, all of their top-level subdomains and five groups of second-level subdomains. A singular certificate is used for everything.
The majority of businesses could not afford to do this separately using Wildcards. Based solely on the example, you would require seven distinct certificates to achieve what a singular Multi-Domain Wildcard, or more precisely, in this instance, a Multi-Level Wildcard could do. This is another excellent application for the cutting-edge multidomain wildcard solutions that have appeared on the market in the last 1.5 years.
Multi-Domain Wildcard SSL Certificate: Overview
When multiple-level subdomains need to be secured, a multi-domain unrestricted SSL certificate is ideal. With just one certificate, securing URLs at different levels is possible. It can function if the websites are on the same or different hosts, like the global certificate.
What are the leading advantages of a multi-domain wildcard SSL?
The benefits of buying a multidomain wildcard SSL certificate include cost savings, an infinite range of security standards for subdomains, powerful encoding, no need for registration when introducing subdomains, and multi-year subscriptions. Large businesses that engage in e-commerce typically have a lot of sites. You need one multi-wildcard SSL certificate to protect all these various tiers of subdomains.
You should search for a distinct SSL certificate if you want a different one for every domain. The certificate includes expanded authentication as well as site and company information.
However, a Multi Domain wildcard SSL certificate has the following advantages:
It can manage the protection of numerous domains across different computers.
Flexible enough to secure up to 250 different subdomains and web pages.
It supports the strongest security possible: cryptography with 256 bits.
Accepted by all popular smartphone and desktop browsers.
Lowers the price of protecting websites substantially.
It simplifies the SSL industry and strengthens the levels of security for both big and tiny businesses.
Utilizing a Multi-Domain Wildcard SSL Certificate to Secure Multi-Level Subdomains
Consider that you must protect the below-mentioned 14 subdomains:
dev.blog.domain.com
domain.com
dev.domain.com
preview.domain.com
dev.project1.preview.domain.com
dev.project2.preview.domain.com
dev.project3.preview.domain.com
dev.project4.preview.domain.com
dev.blog.domain.com
blog.domain.com
preview1.domain.com
preview2.domain.com
preview3.domain.com
preview4.domain.com
The 14 different SSL certificates would be required when employing a normal single-domain SSL certificate. What a nuisance that is!
The answer is a little bit easier with a global SSL certificate. Seven global SSL certificates can be protected:
*. blog.domain.com
*.project1.preview.domain.com
*.project2.preview.domain.com
*.project3.preview.domain.com
*.project4.preview.domain.com
*.domain.com
*.preview.domain.com
There are still many credentials to acquire and maintain. You can buy a single SSL certificate and insert the aforementioned 7 websites as SANs (subject alternative names) to the SSL certificate using a multi-domain unrestricted SSL certificate. This enables you to buy and implement a solitary SSL certificate, saving you a lot of cash and trouble.
Conclusion
You no longer need to maintain numerous SSL certificates for each name or subdomain you handle on your server. Multidomain wildcard appears to be a blessing for businesses, protecting multi-level subdomains underneath a single certificate, thanks to technological development and invention in the SSL sector.
You might be persuaded to choose this treasured certificate by the money and time savings and the easier certificate administration. The best choice for you when you have numerous layers of subdomains is a multidomain wildcard SSL certificate. Hopefully, this article shows you the best ways to protect multi-level subdomains with multidomain wildcard SSL.
Related Articles: