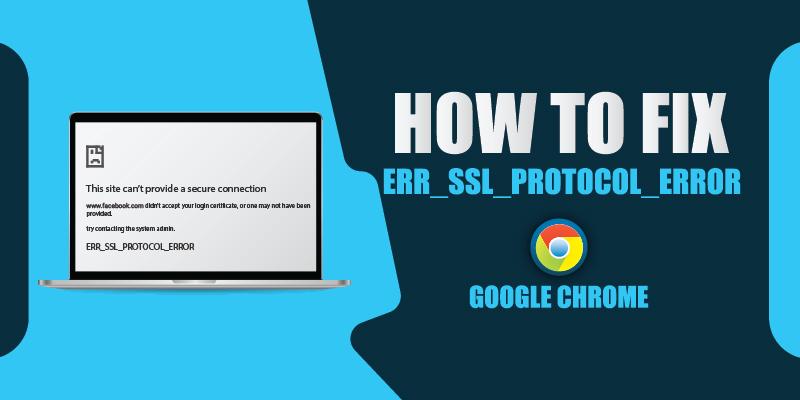 Do you use the Internet frequently to complete your assignments or any other work? If yes, you would surely be using one of the most prominent web browsers in the world – Google Chrome, aren't you? Again, if yes? Then you would be surely familiar with different Google Chrome website bugs and security messages that appear on many sites. Google Chrome is a widely used browser and people who are using it may have faced "ERR_SSL_PROTOCOL_ERROR".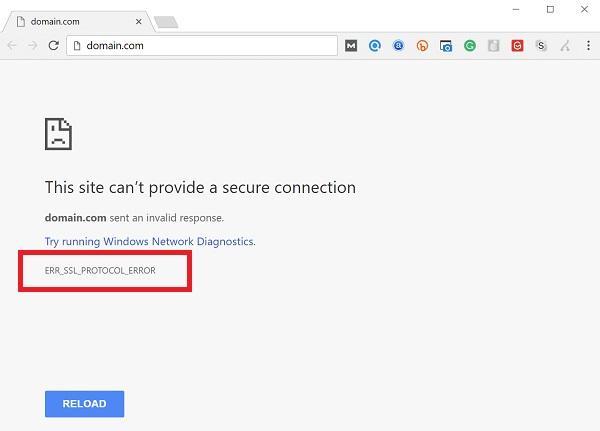 Introduction
Google Chrome is the most widely used browser in the world due to its attractive and simple interface. It provides users a great web experience, but sometimes you may have encountered a common problem saying, "this site cannot provide a secure connection" or "err_SSL_protocol_error." This bug occurs due to conditions that sometimes seem cryptic and is an annoying one. This problem gets solved most of the time after reloading the page, but if it persists after refreshing 2-3 times, you need to take proper steps to eliminate this issue. Let us first find the reasons for this error. Then we will move to the techniques to quickly solve this "err_SSL_protocol_error."
Why are you getting ERR_SSL_PROTOCOL_ERROR?
There are many causes for this error. But here we have listed the most common reasons for "err_SSL_protocol_error":
Wrong date and time settings
The cache stored in your browser
A firewall or antivirus program restricting Chrome extension
SSL certificate issue
How to Fix ERR_SSL_PROTOCOL_ERROR?
The real problem occurs when this error remains there even after refreshing the page or removing the cache data. To eliminate this issue from your Google Chrome, you need to try the following techniques one by one until the problem gets solved:
1. Sync the System's Time, Date, and Zone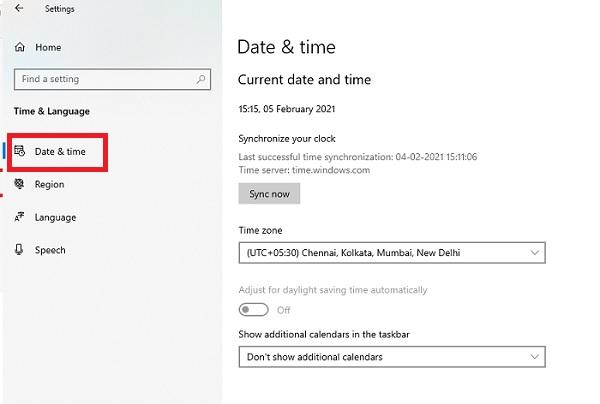 One of the most common reasons for "err_SSL_protocol_error" on Chrome is incorrect time and date configurations. Wrong time zone selection also causes this error. If you encounter this bug on your device, quickly modify the time, data, and zone settings. If this technique does not help, then move to the next one.
2. Clear Cache
When you visit a new site, data is stored in the cache of the browser.  This information helps in fast communication with that site in the future. Try to fix this error by removing the cache data in your browser. Here is how you can do this:
Open a new tab on Google Chrome
Press together, "Shift+Ctrl+Dlt."
Uncheck the browsing history box
Tick all the other checkboxes
In time range setting, select for all time
Press on clear cache
3. Clear SSL State of Your Device
If clearing cache has not helped you fix this bug, then try this technique to solve your issue. Here is how you can clear the SSL state:
Type "Control Panel" in the search box on your system
Tap on "Network and Internet" and move to "Network and Sharing Centre."
Find and select "Internet Options" positioned at the end of the left-hand corner
A new window containing Internet Properties will pop-up
Click on the "Content" tab and select "Clear SSL State."
Now, you have successfully cleared the SSL state. Close and restart Google Chrome to verify whether the error has been fixed.
4. Deactivate QUIC Protocol
QUIC works almost the same as the SSL (Secure Sockets Layers) protocol and is automatically activated by Chrome. Sometimes, it clashes with the SSL certificate of the site and displays an "err_SSL_protocol_error" message. Disabling the QUIC protocol may help fix this problem.
Copy and paste this "chrome://flags/#enable-quic" to Chrome's search bar and press Enter
You will see "Experimental QUIC Protocol" at the top of the new window
Change the settings from Default to Disable to deactivate QUIC protocol
After restarting, you will hopefully see that the problem has been resolved.
5. Clear Hosts Files
If the error still exists, then try this simple method:
Type "Run" in the Start Menu or simple press "Window + r."
Enter this command there "C:\Windows\System32\drivers\etc"
In the new window, you will see the hosts file
Delete that file
6. Modify Antivirus Configurations
Antivirus software protects your system from downloading malicious files or programs over the Internet. However, they cause this error message due to specific issues. You need to adjust your antivirus program setting to get rid of this problem.
Just go to the settings of your antivirus software and search for SSL protocol configurations. Then in the "advanced settings" menu, see if the antivirus program is scanning SSL protocols or not. If it is inspecting then, alter it to "Ask about non-visited sites."
7. Check the Firewall
If you have a domain in your network Firewall's blacklist, Chrome will not be able to access it. Monitor the Firewall to confirm that the site you are attempting to access is not included in its watch list. If you figure it out, delete it and try opening the webpage again.
8. Deactivate Extensions
Extensions tremendously bolster Chrome's performance, but they often ruin the web experience by creating unwanted bugs. Deactivate your browser extensions one by one and keep checking the error causing site when you do that. If you deem any extension to be a guilty part, delete it.
9. Adjust Your System's Privacy Setting and Internet Security
Internet security and privacy settings of your system are of great importance. Although maintaining a high level of security and privacy prevents you from numerous uncertainties (like cybercrimes, viruses, etc.) they sometimes block many sites and cause this error.
Find "Control Panel" from the "Start Menu" on your device
Click on "Network and Internet" and then head to "Network and Sharing Centre."
Now tap on "Internet Options" placed at the end of the left-hand corner. Select the "Security" button and adjust the level of security to medium
Likewise, change the security level in "Privacy Tab" to medium
One of these methods will surely help you in eradicating this problem.
Conclusion
Nowadays, you cannot imagine a day without using the Internet. Google Chrome is an excellent browser that provides you a unique surfing experience due to its eye-catching and simple-to-use interface. But the "err_SSL_protocol_error" message is an irritating one, and you must want to get rid of it as soon as possible. Whenever you see this message while using Google Chrome, use the effective techniques explained above to eliminate this error.
Related Articles: