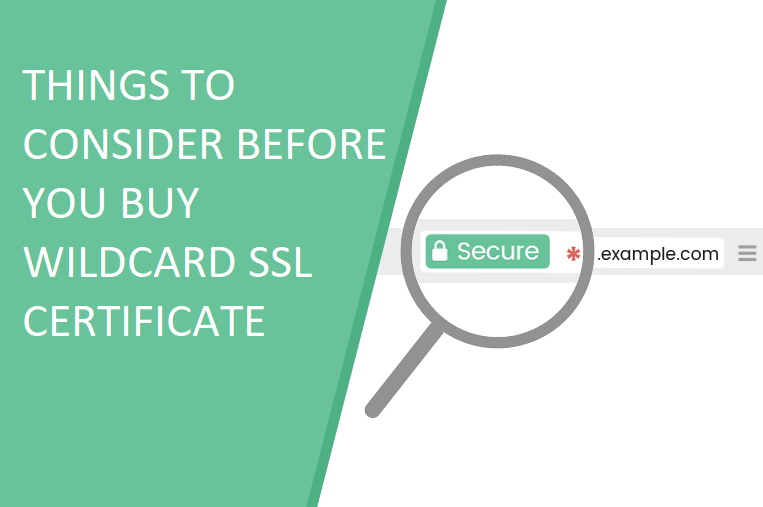 Wildcard SSL certificate is like an SSL certificate, but the difference is that it allows you to safeguard an unlimited number of subdomains that function under a single primary domain.
As an added advantage, one Wildcard SSL certificate is worth more than 12 single SSL Certificates.
If you need a reliable source of security for e-commerce websites, Wildcard SSL certificates are the best bet, especially if you need to take care of the sub-domains too.
How to use a wildcard SSL certificate?
Wildcard SSL certificate supports single-level subdomains by providing the unmatchable versatility. For example, the use of *.example.com wildcard could be:
baking.example.com
continental.example.com
desserts.example.com
contact.example.com
However, while installing the wildcard SSL certificates, you will have recommendations to change the wildcard domain names to make a match with the original domain name.
Moreover, you can install a Wildcard SSL certificate on a single IP address.
From the technical aspect, wildcard SSL certificates automatically secure subdomains under a single main domain so there is no need to fill extra SAN field while generating the CSR.
Types of validation in Wildcard SSL Certificates:
There are different types of validations in Wildcard SSL certificates.
In short, a Wildcard SSL certificate is for domain validated as well as organization validated. You will have protection for both www and non-www domains.
Whereas, the Wildcard SSL certificate with the domain validation limit can validate and secure the domain name and sub-domains.
Moreover, a DV Wildcard Certificate does not require any business validation and takes few minutes in issuance.
Wildcard SSL Certificate with Organizational validation requires business validation and it will have protection for main domain name & unlimited sub-domains.
Whereas in OV Wildcard Certificate, you need to submit business documents, and the verification may take up to 3 days minimum.
You will need some documents for the verification process while purchasing OV Wildcard Certificates.
Facts related to wildcard SSL certificates:
There are Wildcard SSL Certificate facts that you should know as it comes with a 2048-bit signature and 256-bit encryption.
Another Wildcard SSL certificate fact is that it has an unlimited server license policy that allows users to secure business websites.
You can add a number of subdomains to the certificate with a simple reissue.
The SSL holder can reissue the certificate unlimited times.
The customers also get a trust seal that increases the confidence level during online shopping and transactions.
Let us look at some of the advantages of a Wildcard SSL Certificate:
Security of unlimited sub-domains.
It is cheaper.
Certificate management is easy.
Safe online transactions.
Keeps user sensitive information private.
No need of a dedicated IP address.
However, the business organization needs to follow specific wildcard certificate tips while choosing the best wildcard SSL certificate.
It depends on the organization's needs to select the wildcard certificate.
Few things to consider while purchasing a Wildcard SSL certificate:
Cost features.
Additional features.
Branding factors.
Certificate Validation Levels.
Key Features of Wildcard SSL certificates:
There are many vital features in Wildcard SSL Certificate like
Unlimited, secure sub-domains with a single SSL Certificate.
2048-bit SSL Certificates for security proof.
Works well with leading browsers, devices and smartphones.
Unlimited Server Licenses.
256-bit encryption and SHA-2 algorithm.
Available with DV and OV SSL certificates.
A cheap Wildcard SSL certificate is best when compared to other alternatives.
To know wildcard SSL certificates' tips, you should purchase a certificate individually.
So, an ideal choice is to purchase a cheap wildcard SSL certificate that secures unlimited subdomains.
It is an alternative to avoid the extra cost.
Easy Certificate Management:
On the other hand, it is easy to manage the website. From the security, technical and administrative point of view, it is easy to manage a single certificate than multiple certificates.
It is a hectic job to handle the installations, updates, and renewals on a regular base.
Just in case if you forget any one of these, it would hurt the website and the business.
Wildcard certificate provides easy management of a certificate where the admin needs to remember only a single expiry date for main and subdomains.
Wildcard certificates have a better scale:
The wildcard SSL certificate has extensive scalability compared to others.
During the business expansion, if you add another subdomain to your website, it is apparent that it will also cover under it automatically.
No need to install or reissue another wildcard certificate, as it is a future proof of all the subdomains.
Best Wildcard SSL Certificate providers:
There are many Cheap Wildcard SSL Providers in the market that you can easily buy from. However, the most reliable and trusted Wildcard SSL certificates provided by the Certificate Authority are:
Symantec
Comodo.
GeoTrust
Thawte
GoDaddy
SSL.com
Conclusion:
For any e-commerce business website having an SSL certificate is a must. Also, the wildcard SSL certificate is an added advantage as you can choose as many subdomains as you need.
When you select the best wildcard SSL certificate provider, it would help if you planned according to the needs of the organization.
You can choose a perfect wildcard SSL certificate from the best wildcard certificate providers.
These providers also offer wildcard SSL certificate tips and suggestions to you regarding.
These are wildcard SSL certificates facts that you should know before installing one.
Wildcard SSL certificates tips will help you improve the overall security of the website and a safe environment while shopping.
By taking care of small yet effective steps, you can fetch great results and profits!!
Also Read:
Pros and Cons of Wildcard SSL Certificate