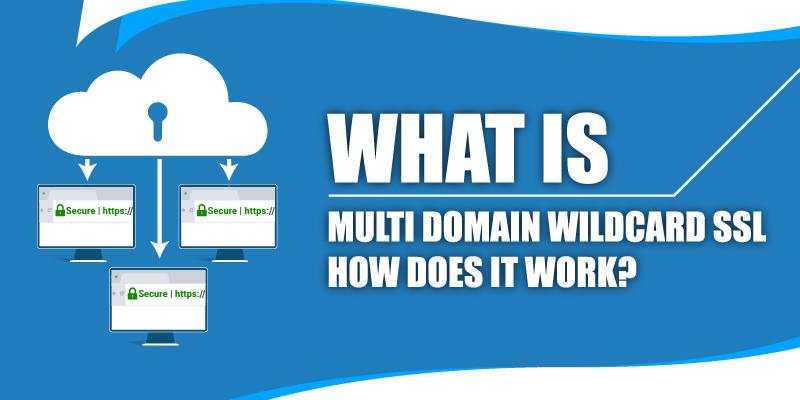 Multi domain Wildcard SSL certificate works on asterisk (*) and a DOT (.) come before the domain name to secure subsequent subdomains. It helps to save the time and the cost of an enterprise in managing multiple subdomains without keeping various single domain certificates. What is multi domain wildcard SSL? How does it work? All these, we will discuss in this valuable piece of information.
What is Multi domain Wildcard SSL
The Multi domain Wildcard SSL certificate is the best SSL certificate for securing multiple wildcard domains and their multilevel subdomains. Certificate management can be a difficult task for admin; hence, multi domain wildcard SSL in this scenario seems a boon for those administrators who do not need to remember multiple dates for SSL certificate renewal.
The below explanation will show you how a multi domain wildcard certificate works:
Suppose an ecommerce venture has multiple domains and different subdomains, so how will a standard wildcard SSL certificate and multi domain wildcard SSL work?
First Scenario:
Let us imagine main domains are
https://abc.com
https://xyz.com
https://domain.com
A normal wildcard SSL certificate will secure subdomains of above domains:
*.abc.com can secure blog.abc.com
*.xyz.com can secure mail.xyz.com
*.domain.com can secure payment.domain.com
Second Scenario:
A multi domain wildcard SSL will secure different level of subdomains:
*.blog.abc.com can secure domain1.blog.abc.com
*domain2.mail.xyz.com can secure domain3.domain2.mail.xyz.com
*domain4.payment.domain.com can secure domain5.domain4.payment.domain.com
You do not need to purchase an individual wildcard certificate or single-domain SSL for Second Scenario because a multi domain wildcard SSL certificate can secure all wildcard domains in a single certificate.
How Multi domain Wildcard SSL certificate differs from other SSL Certificates?
We will now pay attention to multi domain wildcard SSL vs other SSL certificate types. Each SSL certificate is designed to serve a different purpose like multi domain SSL, single-domain SSL etc. All SSL certificates work based on validation so, each SSL certificate is at its best.
#1. Single Domain SSL: Single domain SSL or standard SSL certificate is designed to secure a single domain or subdomain. It is the best SSL for individual bloggers and forum posting sites, and small businesses.
#2. Multi Domain SSL: Multi domain SSL can be useful when different domains with different TLDs like domain.com, mydomain.co.in, domain1.mydomain.xyz needed to be secured with strong encryption.
#3. Multi Domain Wildcard SSL: Multi domain Wildcard certificate, as discussed, secures multilevel subdomains (2nd level) along with their main domains in a single certificate. The reason to choose this certificate is its cost-saving feature.
Features of Multi Domain Wildcard SSL Certificate
A multi domain wildcard certificate is famous for its excellent features that could attract enterprises to go with it. Few features are mentioned below to draw your attention.
#1. Different Validations:
Multi domain wildcard SSL can be issued by following domain validation and organization validation method. The price and features differ as an SSL seeker choose any of them. Domain validation certificate can take a few minutes, while the organization certificate takes 1-3 days in issuance as it requires to undergo a business for registered document verification. The authority here also checks third party business directories to verify the organization status.
#2. Installation:
If you have multiple subdomains running on various servers, you can install the same SSL certificate on separate servers by copying a private key or creating a new CSR and private key and reissuing the current SSL. Finally, install the reissued multi domain wildcard SSL certificate.
#3. PCI Scan:
PCI scan compliant with PCI DSS requirements is necessary for the online merchant as it scans for vulnerabilities in multiple servers. PCI scan tool scans IP addresses which can be extended up to 20 IP addresses/domain. A scanning report should be sent to a merchant bank.
#4. Highest Compatibility:
Multi wildcard SSL is compatible with almost browsers running on desktop and mobile devices. Moreover, the certificate is highly compatible as it does not let users face SSL warnings on their screen.
#5. Multi Year Subscription:
The certificate also comes with a multi-year subscription to save hard-earned money. You need to reissue the certificate before 30 days to benefit from continuous security on your website.
#6. Site Seal:
The website will have an SSL site seal that a site holder can place on any webpage to get customers' surety. Customers, when seeing such a trusted mark, would like to deal with the website.
Why Should You Purchase Multi Domain Wildcard SSL Certificate?
The reasons behind purchase a multi domain wildcard SSL certificate is cost-saving, unlimited different level of subdomains' security, strong encryption, no reissuance require at the time of adding subdomains, multi-year subscription. If you fall into the category of ecommerce, large business, you generally have many subdomains. To secure all these different levels of subdomains, you need a multi wildcard SSL certificate. If you want a separate certificate for each domain, you should look for a separate SSL certificate. The certificate comes with domain, organization, and extended validation process.
Benefits of Multi Domain Wildcard SSL Certificate:
Multiple benefits make multi domain wildcard popular among enterprises. A couple of them are discussed as under:
#1. Quick Issuance:
The issuance of a Multi domain wildcard depends upon the type of validation you choose. Domain validation takes few minutes in issuance where no documents related to business is required. Only WHOIS record information and mail verification is checked to issue a certificate. On the other hand, organization validation and extended validation process take up to 5 days in issuance.
#2. Strong Encryption:
When you wish to secure subdomains under a wildcard certificate, all subdomains, including the main domain, will have strong SHA-2 encryption. Moreover, 2048-bit CSR encryption ensures about root strength of a certificate. Robust encryption keeps cyber culprits away from the information passing between the server and the client.
#3. Time and Money Saver:
Multi domain wildcard saves extra money to be spent on additional subdomains and saves time in managing the different levels of subdomains. You do not need to remember different renewal dates for all subdomains, as a single certificate can cover all wildcard domains and their subdomains.
#4. Trust Seal:
Mostly, multi domain wildcard certificates come with a static site seal like an image that you can put on any webpage to encourage the visitors to visit the website. A site seal assures visitors that the site is safe to deal with the online transaction, and their credentials and financial details will remain secure.
#5. SAN Wildcard Support:
The certificate is ideal for securing multiple wildcard domains and their subdomains.
#6. In-Built HTTPS and Padlock:
Multi domain wildcard comes with HTTPS and a secured padlock. These two indicators win customers' confidence and encourage them to deal with the website securely. HTTPS means the site is protected with the latest encryption standards allows data travelling between the client and the server.
#7. Unlimited Server Licenses and Free Reissuances:
When you wish to add a new wildcard domain, you need to create a new CSR and reissue the current certificate. Moreover, you can install the same SSL certificate on the desired server if a subdomain exists on another server or you wish to run a specific server on a separate server.
#8. Easy Addition and Deletion of Domains:
It is very simple to you can add or delete the domain during the certificate life span.
#9. Warranties and money-back Offers:
If there is any mis-issuance of a certificate, a victim will have extra warranty protection. Moreover, SSL providers also provide money back guarantee that may vary from 15 to 30 days (depends upon the provider's policy). So, if any buyer is not satisfied with the product, he may return the product and get the money back after complying with the SSL provider's refund policy.
Conclusion:
Gone are the days when you have to manage multiple SSL certificates for each domain or subdomain manage on your server. With the advancement of technology and innovation in the SSL industry, Multi domain wildcard seems a boon for enterprises for securing multi-level subdomains under a single certificate. Saving the time and the cost and simplified certificate management could attract you to go with this valuable certificate.
Related Articles: