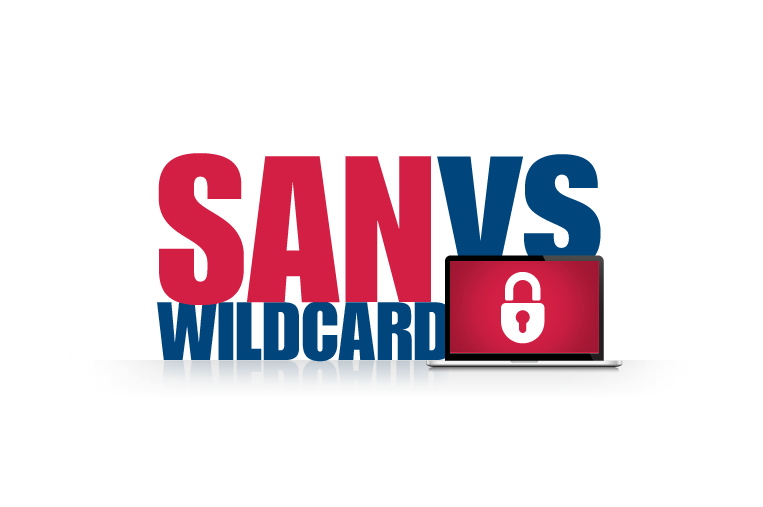 The popularity of SSL certificate has been rising from the last few years, as it provides secure communication as well as protects sensitive information and financial transactions from hackers. Nowadays, several SSL certificates are available in the market, and web owners choose the one that suits their business and pocket as well as covers all domains and subdomains.
Most of SSL certificate users believe that SAN and Wildcard certificate is the same. However, it is a wrong perception. Both are different from each other in many ways that are described below:
Wildcard SSL Vs SAN Certificate
Both types are different from each other in the following manners
Basic Concept Of Wildcard SSL Certificate
Wildcard SSL certificate is used to protect unlimited subdomains along with the main domain under a single SSL certificate.
The best examples are:
https://www.mydomain.com – Main Domain
https://news.mydomain.com – Subdomain
https://blog.mydomain.com – Subdomain
https://pic.mydomain.com – Subdomain
However, wildcard certificate can secure first level subdomain of a main domain, but it can't secure sub domain of subdomain.
For example, if the certificate is issued on *.maindomain.com, then it cannot secure sub.subdomain.maindomain.com.
In this case, multi-domain wildcard is there, which can secure subdomain of subdomain like as follows:
Common Name: mydomain.com
SAN 1: *.firstwebsite.org
SAN 2: *.myexample.net
SAN 3: *.mail.mysite.com
SAN 4: *.address.biz
Benefits of Multidomain Wildcard SSL are as follow:
Secure all types of subdomains in a single certificate.
All multiple wildcards are covered under a single roof so there is no need to purchase individual certificate.
It also comes with site seal when you purchase multi domain wildcard product.
It is available in domain validation and organization validation variants.
Basic Concept Of SAN SSL Certificate
On the other hand, SAN (Subject Alternative Name) SSL certificate is used to protect multiple domains (can secure subdomains) under a single certificate.
The best examples are:
https://www.mydomain.com
https:// mydomain.org
https://blog.mydomain.com
https://www.mydomain.co.uk
Benefits of SAN certificate are as follows:
Security for all domain and subdomains in a single certificate.
Allowing up to 100 domains in a single certificate (Depends upon the provider).
Bestow highest browser compatibility.
Comes with Domain Validation variant.
Allows easy and speedy issuance.
Difference between Wildcard SSL and SAN Certifcate
Flexibility
Unlimited sub domains can be secured through a single Wildcard SSL certificate. Moreover, the web owner can add new subdomains throughout the validity period of the certificate, and they do not need reissue the certificate again and again. Beside it, even new subdomains that do not exist earlier can be added under the same certificate without registration. But you cannot secure multiple main domains under this category.
On the contrary, the limit of the subdomains under SAN SSL Certificate depends upon the certificate authority that you choose. The main benefit of having a SAN (known as multi domain) SSL Certificate is that you can secure multiple main domains as well as subdomains under a single certificate. But you can secure up to 100 (Depends upon the provider) domains under the same certificate, and you must register all the primary domains and subdomains at the time of certificate issuing. You can add new domains during the certificate validation period.
Encryption Level
Both certificates provide the same encryption level that is 256-bit and private key carries 2048-bit RSA strength that makes online transactions stiffer and does not allow the third party to intercept it.
Browser Compatibility
There is no issue with the browser's incompatibility in both certificates. Both these certificates are compatible with all types, almost 99.99+% of the web browsers, servers and OSs. Whether it is a desktop browser or a Smartphone browser, both wildcard and multi domain SSL are compatible with all types such as Firefox, Chrome, Apache, Safari, etc.
Ease of management
The Wildcard is easier to manage than a SAN Certificate. The main reason behind it is that you do not need to reissue the certificate again and again in case of adding new subdomains. But, in SAN SSL Certificate, you must reissue the certificate with adding any new primary domain or subdomain.
Cost
The cost of both certificates depends on the warranty, validation level, features & specs, etc. Generally, Wildcard costs more than the SAN Certificate. But, it worth all your investment because you can secure unlimited subdomains under a single certificate.
Types
Generally, there are three types of SSL certificates such as; Extended Validation Certificates (EV SSL), Organization Validated Certificates (OV SSL) and Domain Validated Certificates (DV SSL). All other types fall in such categories.
The Wildcard SSL comes in two types of Domain Validated Certificates and Organization Validated Certificates. They are also known as:
On the other side, SAN SSL Certificate comes in all three mentioned categories.
Which Certificate You Would Choose?
The answer is depending upon each SSL seeker as websites need may have diversified requirements. If the website runs on multiple subdomains like blog.domain.com, mail.domain.com, payment.domain.com then wildcard is an ideal option. On the contrary, if the website runs on different multiple domains like www.domain.com, www.blog.mydomain.com, payment.yourdomain.com then multi domain SSL is an ideal option.
Conclusion
Both certificates are considered the best in providing security from hackers. All the comparison mentioned above factors will clear you all the difference between both these certificates. If you have established a new business and it is growing day by day, you should choose the Wildcard SSL as it is ultimately a hassle-free and convenient option. On the other hand, if you want to secure your server with multiple names, the SAN SSL Certificate best suit your needs.
Related Blogs