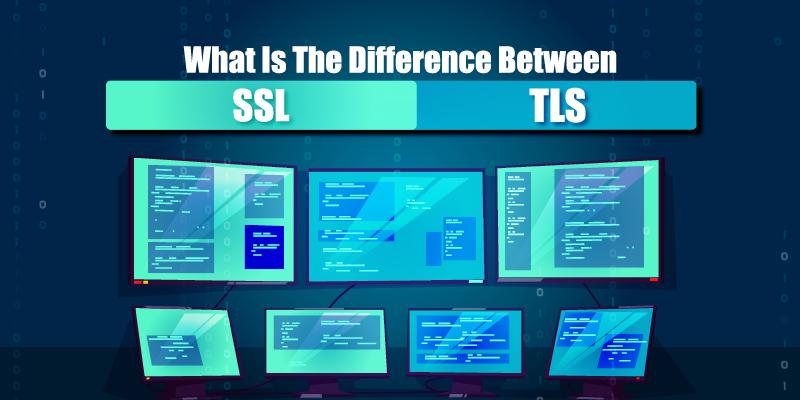 In the jargon-filled internet security world, making sense of usually interchangeably used terms like SSL, TLS can be a bit of a pudding. Are they the same? Or do they hold stark differences amongst them? Unless you work in cybersecurity, making head or tail of the two terms can be a tough nut to crack. But not anymore, people!
Presenting a thorough lowdown on SSL vs. TLS, definition, differences, and need for use enrolled all in one informative! Read on to know more.
SSL vs TLS
SSL (Secure Socket Layer), TLS (Transport Layer Security) are cryptographic protocols that secure and authenticate data transported across networks (between the browser and the server). They help you securely process data so that malicious factors like hackers or third-party interventions like Man in the Middle attacks do not happen.
Historical traces of SSL
Owing to its inbuilt security flaws, SSL 1.0 never really came into the public eye. SSL 2.0 was released in February 1995, making it 25 years old, albeit ancient in internet chronology. SSL 3.0 replaced SSL 2.0 in 1996. However, the third version of SSL still had its flaws.
When the minds at Consensus Development put their noses to the grind and developed SSL's successor, TLS 1.0, in 1999, TLS 1.0 was much similar to SSL 3.0 in ways more than one; however, a downgrade was still required to use SSL 3.0.
Since then, three more versions of TLS have seen the light of the day, and both the previous SSL versions have been publicly deprecated owing to their known inherent security flaws. TLS 1.1 was released in 2006, with a pre-planned deprecation in 2021. TLS 1.2 was publicly launched in 2008, whereas TLS 1.3 came into existence in 2014.
What does SSL mean?
SSL or Secure Socket Layer refers to the standard protocol that ensures secure transmission of data across networks. Three versions of SSL protocol were developed, out of which two were released publicly. They were all riddled with security vulnerabilities. SSL 3.0 was still susceptible to attacks like POODLE or DROWN vulnerabilities.
What is meant by TLS?
Websites use TLS cryptographic protocol, which is an improved version of its now-deprecated predecessor SSL, to secure transmission of data across multiple channels. It comprises two layers: the TLS handshake protocols and the TLS record.
TLS 1.0 came into existence in RFC 2246 in January 1999. It was written by Christopher Allen and Tim Dierks of Consensus Development. The PCI council ordered migration from the first version of TLS to its latest versions before June 30, 2018.
SSL or TLS protocol?
TLS is more secure as compared to SSL protocol and should be used instead. First things first, you do not need to upgrade your certificate to enjoy the benefits of TLS. The name "SSL certificate" is primarily used for branding purposes, albeit your certificate is built to support both SSL and TLS protocols. You can disable the earlier versions in the server configuration.
SSL versus TLS protocols
Developer: Netscape created SSL 1.0 in the year 1995.Whereas TLS 1.0 was written by the IETF (Internet Engineering Task Force) in 1999.
Handshake process: Master secret and pad comprise the hash calculation in SSL, whereas TLS protocol uses the Hash-Based Message Authentication Code (HMAC).
Cipher suites: Fortezza cipher suite is what the SSL protocol offers support for, whereas TLS supports the latest cipher suites like Triple-DES, IDEA, RC4, and AES.
Security: In terms of safety, TLS protocol is better than SSL. All the released versions of SSL are prone to attacks, whereas TLS 1.2 offers better security and is the most widely used server-level protocol version.
Importance of using an SSL certificate
Here are the crucial benefits of using an SSL Certificate.
Security of data being transported: If you are an ecommerce website owner or a blogger occasionally selling products, your site must have an SSL certificate installed. It protects your customers' confidential information such as credit card numbers, etc. Data thieves can not intercept the ongoing information between the browser and the server.
Customer trust: When customers see the green/grey padlock and HTTPS sign, they breathe a sigh of relief as they know that their personally identifiable information (PII) will be safe in the event of a transaction. They would like to do transactions with the site in near future.
Better SEO rankings: Since 2018, Google decided to give a boost to HTTPS secured websites by flagging 'insecure' any site without an SSL certificate. Sites with SSL certificates pre-installed receive an increase in SERP rankings, which guarantees better visibility than competitors.
Vouches for authenticity and integrity: Having an SSL certificate in place vouches for the fact that you are sending your data to the intended recipient website and not to an imposter. In addition to data encryption, it fosters authenticity and engenders consumer trust, which goes a long way in furthering your business.
Why do you need to use SSL or TLS protocols?
Google and Firefox have begun penalizing websites that are not SSL/TLS protocol encrypted. Browser warnings will pop up on the screen, seeking permission before proceeding towards such insecure content on unencrypted websites.
Most used browsers will present a degraded UX by reflecting security warnings such as a line through the padlock when they come across a web server using obsolete versions of protocols.
In conclusion
On that note, we would like to emphasize that though the term SSL is still used in common parlance, TLS is what is usually implied since both public versions of SSL are not secure and have long become redundant. An SSL certificate supports both the server level protocols, SSL as well as TLS. If you have already installed an SSL certificate, you can be pretty sure that it supports TLS as well.  We hope that this endeavor has successfully dispelled any doubts that you may have had regarding SSL vs. TLS and their inherent differences.
Related Articles: