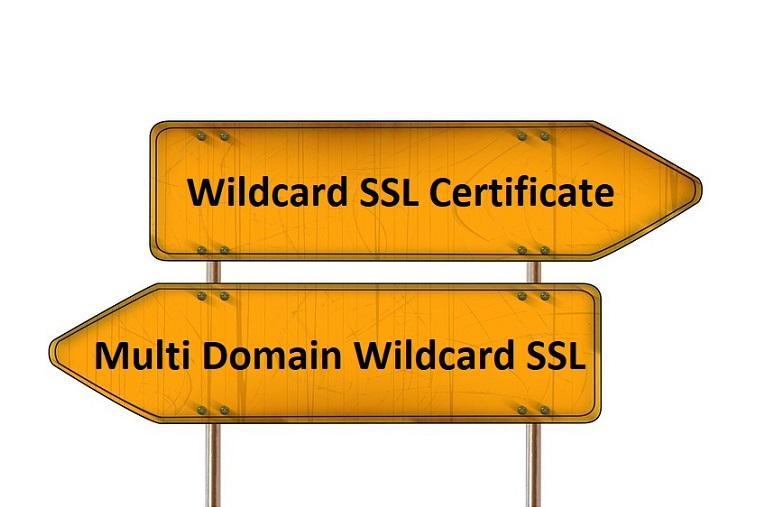 Whenever you decide to purchase an SSL certificate for your website, you'll undoubtedly hear about two popular options: Wildcard SSL Certificate and Multi-Domain Wildcard certificate. But what exactly they're, and how to choose between them? If your mind also popped with this question, you're not alone. And here we're going to answer this question for you along with a brief overview of both these certificate types.
Let's get started:
Wildcard SSL certificates
A Wildcard SSL certificate protects one domain and all other subdomains coming immediately under its hierarchy. It's a perfect solution for all those webmasters who have a single large website with several smaller websites under it. You pay for one certificate, and it protects all your subdomains too. For example, if you have mydomain.com, a wildcard will be applied on it like *.mydomain.com then it secures domain as follows:
Even a wildcard certificate can't protect all your subdomains if they're distributed at multiple levels in the hierarchy. It can protect only those subdomains which are located immediately under the primary domain name aka first level subdomain.
For instance, in the above example, your certificate can protect sub.mydomain.com, blog.mydomain.com, and so on… but not something like abc.example.mydomain.com and company.info.mydomain.com as these subdomains are second levels away from the primary domain name in their hierarchy. So, you'll have to think about a separate certificate for them.
The key benefits of Wildcard SSL certificates are given below:
Multi Domain Wildcard SSL certificates
As its name suggests, a Multi-Domain Wildcard SSL certificate serves as a single SSL certificate to protect all your main domains and subdomains. You can protect multiple domains and its second level subdomains regardless of whether they're hosted at different servers. Usually, these certificates come with a very high limit of domains that can be secured with them. A single multi-domain wildcard SSL certificate can protect as many as (depends upon the provider) domains and subdomains (in some cases even more).
If you own two websites at www.example.com and www.domain.com, not only these two domain names but also all their subdomains, regardless of the level at which they exist in the hierarchy, can be secured with a multi-domain wildcard certificate.
From above discussion, it is clear about the meaning of wildcard and multi domain wildcard certificate. Still, we have enumerated few differences between these two valuable certificates:
| Wildcard SSL Certificate | Multi Domain Wildcard SSL |
| --- | --- |
| Protects your main domain and its first level subdomains without any limitations. | Protects multiple domains, it's any level of subdomains with a single certificate. |
| Do not need to add subdomains once you purchase. | You need to add wildcard domain if you want further level of subdomain security. |
| Users with unlimited first level subdomains should go for wildcard SSL. | Users with 2 or more FQDN should go for multi domain wildcard SSL. |
| Users can't edit, delete subdomains in a certificate. | Users can add extra wildcard domain. |
So, which one to select?
Now you may undoubtedly be thinking of choosing multi-domain wildcard certificate for your business. However, the choice is not so straightforward. Instead of looking for one perfect solution from these two options, you should instead examine your requirements first. You should see how many websites and sub-websites you want to protect, and where are they currently located in the hierarchy. Then once you've analysed these details, you can take the decision more carefully.
If your website includes a leading site and 3-5 child domains hosted on various subdomains, then we would advise that you should choose a Wildcard SSL certificate. In case, if you have subdomains on different servers, then you need to install the same SSL on all servers.
Otherwise, if your business has multiple websites also with different level of subdomains, in that case, you can choose a Multi-Domain Wildcard SSL certificate.
Of course, your budget will also play a significant role in deciding which of these certificates you choose. And it should also play that role because finances are also necessary.
Conclusion
We hope the above details explain the concept of both wildcard and multi-domain wildcard SSL certificates to you. We also told you how to select one of these options based on your requirements. Hopefully, now you'll be able to purchase the right SSL certificate for you.
Related Articles: